Integrating / Using Google AdWords
Using our Google AdWords conversion tracker will provide a greater insight into how your customers are reaching your ticket page. 

It's an effective way to help you understand which Google AdWords campaign is attracting the most attention, performing most efficiently and resulting in the most purchases.

To make full use of this tool you'll need to follow the steps below and sync your Google AdWords account with your Tonic account. 

SYNCING GOOGLE ADWORDS
- First, log into your GoogleAdwords account, 

select 'TOOLS' and click 'CONVERSIONS' from the drop down list.

 
- Click '+ CONVERSION' and give it a title (we suggest Tonic Event Name/Date).
- You'll also need to select 'WEBPAGE' as the conversion source and 'DON'T ASSIGN A VALUE' as the conversion value, then hit save - these can all be changed later on.
- Select "I MAKE CHANGES TO THE CODE TO GET THE CONVERSION CODE" and note down the google_conversion_id as well as the google_conversion_label.

SYNCING WITH TONIC
- Head over to Tonic, log into event admin and select 'MANAGE' on the event you wish to sync.
- Once the Dashboard has loaded use the navigation bar on the left to scroll down until you find 'PROMOTE' and select 'SALES TRACKING'.
- Click into 'ADWORDS CONVERSIONS' where you'll find a box on the right hand side titled 'CONFIGURE'. 
- Copy the google_conversion_id and the google_conversion_label into the corresponding boxes, hit save and voila, you're good to go.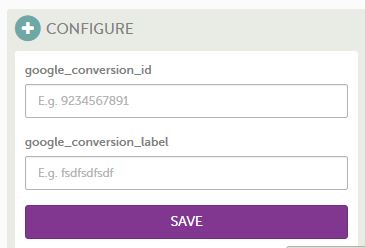 If you found this helpful, you may be interested in integrating your Google Analytics account.