If Tonic is the main ticket seller for your event then it is a requirement to have the ticket link attached to your website. This can be done a number of ways, either in widget format or by using the URL link and directing customers directly to the DMN event page. 

WIDGET
The main advantages to using the widget code on your website are that it can be customised to match the appearance of your site, it is easy to navigate and means at no point is the customer being directed away from your website. To locate the widget code follow these steps: 

- log into event admin
- click MANAGE and scroll down to the WIDGET section on the dashboard
- clicking GET STARTED (section 1) will allow you to customise your widget
- the code for you to use is generated in the box below (section 2)
- on the left hand side of the page you are shown an example of the widget 

By using 'section 1' the widget custom option, you are able to complete useful actions such as; show or hide ticket description, light or dark text colour, event dates displayed in a calendar or list, ticket form or 'buy tickets 'button. 

Please note, each time the widget is edited the code changes and therefore the new code needs to be copied and applied to your website.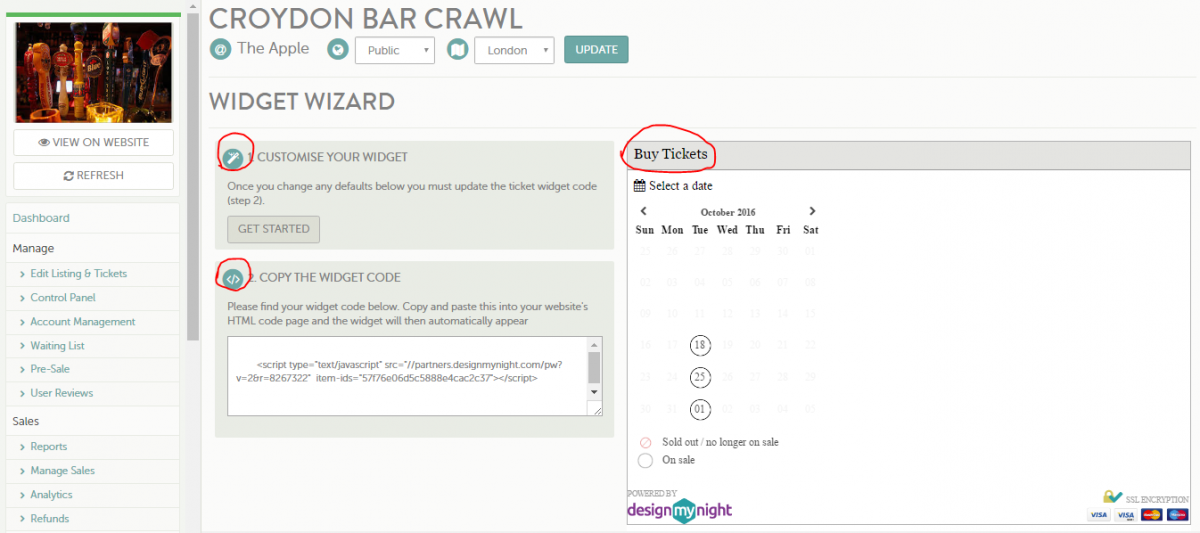 SHORTEN LINK FOR SOCIAL MEDIA PROMO
https://bitly.com/ can be used to shorten ticket links so that they can shared in social media posts